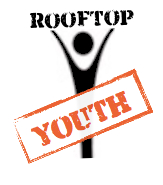 After few months of existence and with the view to develop our space into a community arts hub, Rooftop Youth is calling for instructors, professionals and workshop facilitators who would be interested to carry out workshops during the term Sept 2016 - May 2017.
The Space
Our space is a flexible open space with wifi internet connection, two moving mirrors, perfect for any kind of theatre and other movement classes, with a capacity of 10 -12 people max depending on the activity. Additionally, there is soft flooring and the use of a projector if required. At the back of the first big room there is also a full functional office space with two desks and 4 chairs.
Conditions
Successful applicants will be hiring the spaces on an hourly rate payable at the end of each month. According always to their usage and fee payable by their participants.
The facilitators will be responsible for collecting the fee from their participants and they will be free to set up their own prices.
We will offer help and advise as well as promoting the space and the activities.
Workshops could be for adults as well as children.
Applications
Those interested in applying please fill in the form attached and send it to us with a copy of your CV at This email address is being protected from spambots. You need JavaScript enabled to view it. by the 16th of August. For more info you can also contact us on our Facebook page: Rooftop Youth